Larry Coryell: "Kudos to Roman for Temptation!".
(Published: February 28, 2011)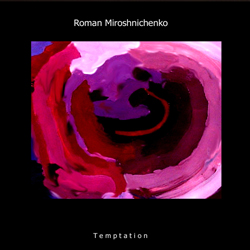 Roman Miroshnichenko's album review by Larry Coryell who deserves a special place in the history books.

"Temptation" is an excellent piece of the type of modern flamenco music that John McLaughlin and I played with Paco de Lucia in the late seventies in Europe. Roman Miroshnichenko, in his tribute to this style of music, stays very close to the original guidelines that make this an authentic piece of creativity and not simply a copy.

The use of Spanish percussion with subtle rhythmic variations is a case in point; this pulsating underpinning makes a great foundation for Roman's improvisations, which are characteristic of the new flamenco approach to an old form. The "new" form smacks of freshness and vigor and Roman's more-than-impressive technique helps his lines soar above the complicated rhythms and sophisticated chords.

This new flamenco harmonic mind-set is a result of the young Spanish players mixing their traditional guitar playing with ideas from other styles, like jazz, and the result is that this music appeals to intelligent listeners. Roman's playing at times is reminiscent of Al DiMeola, another artist involved for a long time in the blending of styles to bring forth a new form of guitar music.

It is a wondrous aspect of the modern guitar evolution that a young Ukranian could faithfully embrace the Spanish/Gypsy culture with such accuracy.

This music is not for the faint of heart; one must have courage to dig deep into the music and discover the creative value within.

Kudos to Roman for "Temptation"!


Yours truly,
Larry Coryell

P.S. two weeks ago guitarist Roman Miroshnichenko has received nomination from the 10th Annual Independent Music Awards. Roman has been nominated in the Best World Beat Album Category for his Temptation CD release.
More Information: http://www.cdbaby.com/cd/miroshnichenko2