Larry Coryell Congratulates Roman Miroshnichenko On His 20th Anniversary Of Performing
(Published: October 09, 2012)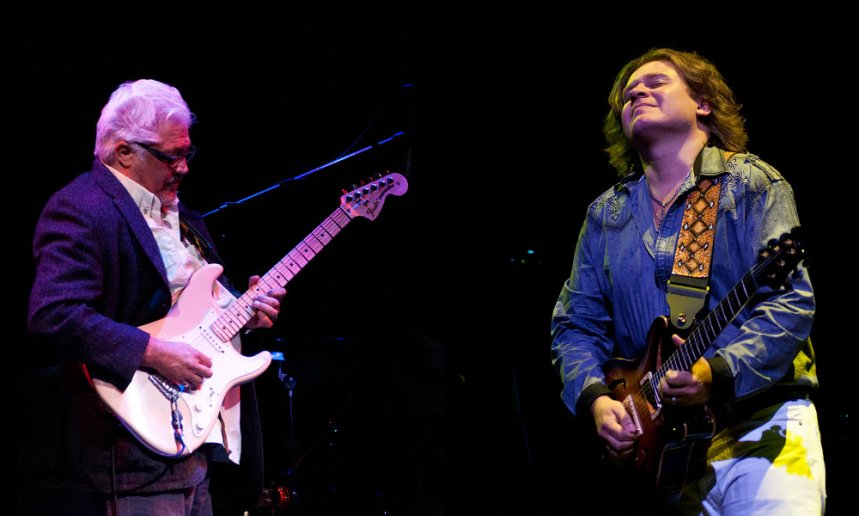 Last week in Moscow, at the International House of Music, a very special concert took place. One of the most prominent in Eastern Europe, virtuoso guitarist, Roman Miroshnichenko, celebrated his 20th year anniversary of devotion to his creative career. Joining Roman in his celebration were his RM Project Band and special guests, the legendary American guitarist Larry Coryell, called the "Godfather of Fusion" by Down Beat Magazine, and Russian jazz pianist Daniel Kramer. Also there to congratulate Roman was his father, conductor and saxophone/clarinet player, Maxim Miroshnichenko from Ukraine. Mr. Miroshnichenko joined his son Roman on stage, along with Larry Coryell, Daniel Kramer, and Roman's band to play Duke Ellington's "Caravan".

During the concert the audience was treated to the brilliant sounds of improvisations on compositions of Astor Piazzolla, Chick Corea, Roman Miroshnichenko and Larry Coryell. One of the highlights of the evening was the presentation by the duo of Larry Coryell and Roman Miroshnichenko, of "River Crossing". This composition, by Larry Coryell, is part of an opera he is writing based on the Leo Tolstoy novel, "War and Peace", that describes an episode of the Russian-French war of 1812.

The day before Roman's 20th anniversary jubilee concert, Larry Coryell and Roman Miroshnichenko performed live, on-air at the Mayak radio station - one of the largest and most recognizable radio stations in the territory of the former USSR. The performance was such a huge success, based on the numerous requests from the listening audience, that the duet lasted for 2 hours, instead of the allotted 45 minutes.

Over the last three years, Larry Coryell and Roman Miroshnichenko have regularly played as a duo. They have performed to full houses all over Russia, and in 2011 they were headliners at the biggest guitar festival in Europe, the "World of Guitar" festival in Kaluga, Russia.
More Information: http://romanmiroshnichenko.com/en/proj/16/