Buster Poindexter (AKA David Johansen, NY Dolls) returns to Café Carlyle, February 10-21
(Published: January 08, 2015)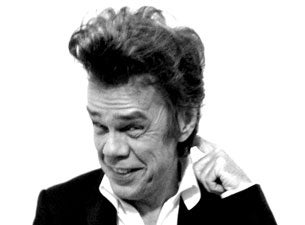 As a founding member of the New York Dolls and in a prolific solo career, David Johansen has been a seminal force in rock and roll, influencing countless singers and bands to this day. Buster Poindexter, Johansen's celebrated alter ego showcases his elegant crooning through R&B ballads. As Poindexter, his previous engagements at the Café have been sellouts and he's become one of the most revered artists to grace the Café, with TheaterMania calling his Café show "one of the most satisfying musical acts you're likely to encounter in New York," adding "this show is hot." In what continues to become a Café tradition, the audience favorite returns to Café Carlyle for a two-week residency, February 10-21, including a special Valentine's Day performance on February 14.

Stephen Holden of The New York Times praised his recent Café Carlyle performance: "That Buster Poindexter, a.k.a. David Johansen, the original punk hipster lounge lizard seems perfectly at home at the elegant Café Carlyle... with his exaggerated pompadour, crocodile grin, and raw Tom Waits growl, is 64 going on 14, and still having the time of his life." Performances will take place Tuesday through Saturday. Reservations made by phone at 212.744.1600 are $70 ($120 for premium seating, $50 for bar seating) Tuesday-Thursday; and $80 ($130 for premium seating, $65 for bar seating) on Friday and Saturday. Reservations made online at www.ticketweb.com are $65 ($115 for premium seating) Tuesday-Thursday; and $75 ($125 for premium seating) on Friday and Saturday. Café Carlyle is located in The Carlyle, A Rosewood Hotel (35 East 76th Street, at Madison Avenue).

At the Carlyle, Poindexter (vocals, harmonica) will be joined by Brian Koonin (guitar), Clifford Carter (piano), Richard Hammond (upright bass) and Ray Grappone (drums).

For more information, visit www.facebook.com/officialBusterPoindexter and www.twitter.com/busterpoindextr.

About Café Carlyle at The Carlyle, A Rosewood Hotel

Originally opened in 1955, Café Carlyle is New York City's bastion of classic cabaret entertainment, a place where audiences experience exceptional performers at close range in an exceedingly elegant setting. Since composer Richard Rodgers moved in as The Carlyle's first tenant, music has been an essential part of The Carlyle experience. No place is that more evident than in the Café Carlyle.

Café Carlyle is known for talents including Woody Allen, who regularly appears on Monday evenings to play with the Eddy Davis New Orleans jazz band. For three decades, Café Carlyle was synonymous with the legendary Bobby Short, who thrilled sell-out crowds for 36 years. His spirit lives on through the music at Café Carlyle.

Continuing the tradition of the 1930s supper club, Café Carlyle features original murals created by French artist Marcel Vertès, the Oscar-winning art director of the 1952 Moulin Rouge.

More Information: http://www.rosewoodhotels.com/en/the-carlyle-new-york/dining/cafe-carlyle