Concord Records Add 5 Fantastic Collectibles to 'Collector's Corner'
(Published: July 17, 2008)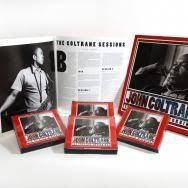 The folks at Concord Music Group have added 5 more rare and collectible classic Jazz titles to their recently launched 'Collector's Corner' site.

These five fantastic collectibles (below) as well as many more rare & collectible vinyl and box set titles from labels such as Fantasy, Specialty, Prestige, and Stax are now available at The Collector's Corner: http://www.concordmusicgr...

Sonny Stitt -- Stitt's Bitts:

This Prestige 3-disc box set highlights the best of the cult saxophonist's be-bop years (1949-1952) proves definitively that Stitt was no mere Bird disciple, rather a singular Jazz instrumentalist that is long past due for reevaluation. With liner notes by legendary comic book author Harvey Pekar ("American Splendor"), Stitt's Bitts is the document on one of the less-obvious pillars of the Jazz saxophone.

Miles Davis -- Collector's Items (2-fer edition):

The title more or less says it all. Collector's Items was first introduced in 1956 (with material dating back to 1951) and features a legendary '53 session where Davis united the tenor saxes of Charlie Parker and Sonny Rollins. This 2-fer incarnation (originally introduced as a 2-LP set in the early-'70s) includes material from the Prestige title Conception and the Debut classic Blue Moods.

John Coltrane -- The Prestige Recordings:

16 CDs representing 21/2 years of 'Trane's prodigious Prestige output. 125 tracks, 1100 minutes, representing 25 sessions. Only serious collectors need apply.

Joey DeFrancesco Feat. Joe Doggs -- Falling In Love Again:

The list takes a left turn here with this one-of-a-kind 2003 Concord Jazz session that unites the Reigning King of Hammond B-3 and Joe Doggs, a vocalist who in some circles is referred often as a "Goodfella." Listen up and listen good.

Django Reinhardt with The Quintet of the Hot Club of France -- First Recordings!:

You may recall Woody Allen's late career triumph Sweet & Lowdown as an homage to Django. Here, you'll rediscover the real thing on this collection of his earliest sides. It features the incomparable Stephane Grappelli on violin. So hot and cool, you may need ice cubes for your espresso.

It's all been backed into The Collector's Corner:

http://www.concordmusicgr...

http://www.otmg.net/pages...
More Information: http://www.concordmusicgroup.com/collectors-corner/
Submitted By:
1
sample@email.tst