Grammy Award-Winning Producer David Foster Releases CD+DVD
(Published: November 18, 2008)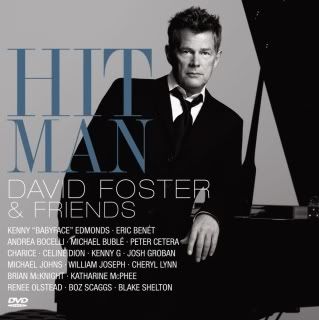 Uber songwriter / producer and 15-time Grammy winner David Foster assembled an all-star lineup for Hit Man: David Foster and Friends, released this November via 143 / Reprise (Warner Bros.).

The stunning collection of artists performed a one-night only show in Las Vegas last spring, which honored his hugely successful four-decade career. The result is the CD / DVD Hit Man: David Foster and Friends, with stand-out performances by Kenny G, Andrea Bocelli, Michael Bublé, Josh Groban, Celine Dion, Katharine McPhee, Brian McKnight, and others.

Having worked with a virtual who's who of the record business including Barbara Streisand, Madonna and Michael Jackson, Foster's storied career continues to impact the charts. Spotlighting the many number one hits, award-winning songs and other favorites, the show will also be broadcast as part of the prestigious Great Performance Series on PBS in December.


More Information: http://www.davidfoster.com/