New СD "Quasipsychedelic" by Roman Miroshnichenko: "A different kind of ride..."
(Published: March 06, 2011)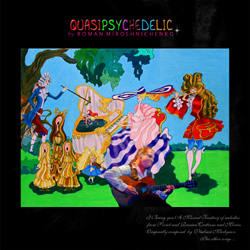 "Let me take you on a vertical trip of the mind, a musical fantasy of melodies that will wrap your body and soul in harmonies and instrumental sounds without voice. Allow the melodies to seduce you to go further and further away from all the worries of your day to day life. I'll give you some blissful moments away from the insane world of plastic pop music which is much more suited to elevators. Not to worry! Nothing serious - no heavy opuses to wear out your already tired mind. I offer to you "Quasipsychedelic" - just the right sound track to ease you along on your vertical trip. And, once you step away from your ride, you will find that it leaves a slight, but pleasant aftertaste. Just enough to beckon you to take another ride!" (excerpt from CD liner notes)
In a recent interview, celebrated Russian/Ukrainian guitarist Roman Miroshnichenko was asked, "Where did you get the idea to record an album featuring the musical scores of old Soviet cartoons and films?" and, "Did these old cartoons have some special meaning to you?" Roman replied, "The thing is that it is not just about the music. It is also about the music's ingenious composer, Vladimir Martynov. It is incredibly touching music. Also, the cartoons themselves were an inconceivable breakthrough in a time of Soviet censorship. Do you remember the cartoon 'Music Box With a Secret'? That cartoon is pure quasipsychedelic artwork. This is how I came to name my new album."


Vladimir Martynov agrees, "Everybody knows that there was censorship in USSR but very few people know just how cranky it could be. Sometimes it resulted from technical problems rather than ideological circumstances. In the mid 70's I experienced censorial pressure just due to technical issues while writing soundtracks for films of Valery Ugarov, Andrey Khrzhanovskiy, and Vadim Abdrashitov. At that time the movie theaters could not provide plain stereo sound, let alone high and low sound. Therefore, your music could be heard in original fashion in studio only while recording. This is the reason why I feel very much obliged to Roman, who has managed not just to capture what was originally conceived in those castrated soundtracks, but also to make a new creative impact on them".

The venerable composer and virtuoso guitarist discovered that they are also brought together by a mutual love of such iconic musicians as John McLaughlin, Robert Fripp, Chick Corea's 'Return To Forever' band, as well as great cinematic music.
In 1976, the Soviet cartoon, "Music Box With A Secret", portrayed a musical-figural fantasy by Valery Ugarov, based on a story by Vladimir Odoevsky. The story is about a "little city in a tobacco box" Indeed, it is hard to understand how a "non-Soviet" picture, made in the spirit of The Beatles "Yellow Submarine", accompanied by a blatantly anti-Soviet, psychedelic soundtrack could somehow manage to leak through censorship of that time. Thirty-three years later, Roman Miroshnichenko rediscovered the music of this favorite cartoon and arranged and recorded his own version of the soundtrack he remembers from his childhood. After recording the new arrangement of "Music Box", Roman played his version for the music's original composer, Vladimir Martynov, and shared with Martynov his idea to create a new musical album based on Martynov's scores for cartoon and movie soundtracks from the 1970's. Valdimir Martynov enjoyed this idea and said: "Do it!"

Roman spent the next year selecting and recording music for "Quasipsychedelic" . The resulting album features eight songs based on Martynov's scores for cartoons and soundtracks from movies, "Cold Summer of 1953" and "The Island". The album also includes a musical adaptation of Martynov's famous "Dances on the Beach". Roman then approached American artist Elaine Kilmer - a friend and admirer of Roman's music and creativity - to collaborate with him and develop a suitable drawing based upon video clips of the cartoon "Musicbox" for the CD cover. The CD was recorded with Roman playing all acoustic and electric guitars, as well as bass, guitar synthesizers, and percussion. Several tracks feature Oleg Tarkhov (bass), Alexy Batychenko (trumpet, backing vocals), and Ivan Gorishnyak (keyboards, programming). Also featured are samples from Roman's European colleagues Saskia Laroo and Henrik Andersen.

Roman describes his project as such: "Quasipsychedelic is deceptive. The listener is lulled into a sweet sleepiness that is pleasantly entertaining and soothing to the ear, only then to receive a punch in the guts as the music suddenly transitions from melodies and rhythms in the spirit of "easy-listening" to blazing, virtuoso guitar improvisations. Lazy listeners and connoisseurs of elevator music be warned! These are not mindless hum-along, toe-tapping melodies. All too soon you may find yourself grasped and swept away by the artful designs of jazz harmonies and seductive world rhythms. Some listeners may find themselves pondering where their "life-lift" is going?... 'Do I need a change of direction?' A few may find they can step out onto their floor and forget the overheard passages ... but the Quasipsychedelic impression will be impossible to simply dismiss!"

Roman is very flattered that the great guitarist Al Di Meola, having listened to the Quasipsychedelic CD trailer, has proclaimed: "Very good, Roman!! You're the number one in Russia!
More Information: http://www.cdbaby.com/cd/romanmiroshnichenko