Roman Miroshnichenko is guest-star in "Canto De Pilon" music video
(Published: March 30, 2011)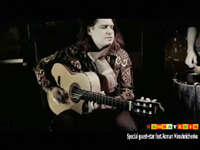 Several years ago Arthur Gazarov (the leader of Moscow band "Sambateria") heard an old record of "Canto de Pilon" -- the venezuelan folk song. The song made deep impression on him and Arthur wished to record a remake based upon percussion rhythm section. The arranger did not feel a lack of innovative ideas. For example Arthur used glass bottles filled with water to different levels as wind instruments.
The remake turned out to be a success and has become one of the core acts of "Sambateria" club program.
Ivan Maximov, a famous Russian animator, visited one of the band club concerts. In looking for ideas for the soundtrack of his new animation movie, he offered Arthur to make a studio record of "Canto De Pilon". Enthusiastic reviews and numerous requests from fans to be able to listen to recorded "Canto De Pilon" have become additional incentives for Arthur Gazarov to start painstaking work in studio.
Shortly it turned out that there was an acute need in solo instrument that would draw a melody line. Arthur did not have doubts on a candidate to accomplish that: to make the record he invited Roman Miroshnichenko - his old friend and colleague and a famous Russian virtuoso-guitarist. Roman's tight schedule had been keeping him from recording his improvisation for half a year but so long a pause has paid off: no wonder that Arthur thinks the guitar part to be Miroshnichenko's best studio record.

"Recording "Canto de pilon" was our first work in studio together with Arthur Gazarov in spite of the fact that our friendship and cooperation has been for ten years" Roman Miroshnichenko says. "It is twice as pleasant that our "first step" turned out to be quite successful" -- he adds.
On the other hand the fans and some members of "Sambateria" band accustomed to the club sound of "Canto de Pilon" did not recognize its studio version straight away. Arthur and Roman had to fearlessly defend the studio version to exist. "Canto de Pilon" take-off to the leading positions in the chart of "All About Jazz" American portal has restored the justice while the interest to the composition from moviemakers has strengthened the success. In the summer of that year Ivan Maximov used Roman Miroshnichenko's guitar solo in the soundtrack of his animation movie "Tides. To and Fro". To and fro" that took part in Berlinale movie festival in February 2011. Finally Sergey Maximov (director and operator) has made the music video "Canto De Pilon" that received high rating from Hollywood experts
"I was enthralled by the mood living in the music right from the start" -- Sergey Maximov, the director, says. - "For some reason it coincided perceptively with snow, space and frozen state of the city. We refused to have a certain story right away because the mood can not be limited to any bounds. There are just symbolic objects that create a certain mood and we used them as relationships between the moods of different people located far from each other."

Sergey made the video in black-white color. Scenes in the video were arranged on winter night streets and inside the interiors of Moscow and Saint-Petersburg apartments. Some parts of the video were shot in "China pilot Djao-Da" Moscow club. Roles in the video were played by the musicians themselves who managed to create impressive characters. For example Roman Miroshnichenko looks amazingly in round dark glasses when he sits on a bench in a public garden and plucks strings with fingers sticking from the ragged gloves.

Team:
Sergey Maximov - director of photography, editing, post-production;
Egor Kurchatkin - second cameraman (famous music video maker, photographer, showman);
Arthur Gazarov -- musical producer, arranger, percussion. One of the most respected Russian percussionists, the founder of "Sambateria" - the first, one-and-only Russian school for drummers and percussionists, the head of "Sambateria" band;
Roman Miroshnichenko - "Carmen" acoustic flamenco-guitar, special guest-star of the music video and the soundtrack, plays the main theme and solo in the soundtrack, an internationally well-known virtuoso guitarist, Independent Music Awards 2010 Winner.
Ekaterina Golubeva-Poldi - vocals, sings the main theme of the soundtrack, well-known in Russia actress and a model;
Egor Dergachev - keyboards;
"Sambateria" (Alexander Glazov, Maria Blokhova, Paata Chakaberia, Sergey Knyazev) -- percussions;
Alexey Belov - sound engineer.
The soundtrack of the video was recorded at "SoundService" studio.

More Information: http://www.youtube.com/watch?v=3Nx7TVXrO8g