Marcus Goldhaber to present "Jazz on The Seaport" series: Thursday Evenings in April @ The Algonquin Seaport Theater
(Published: March 31, 2011)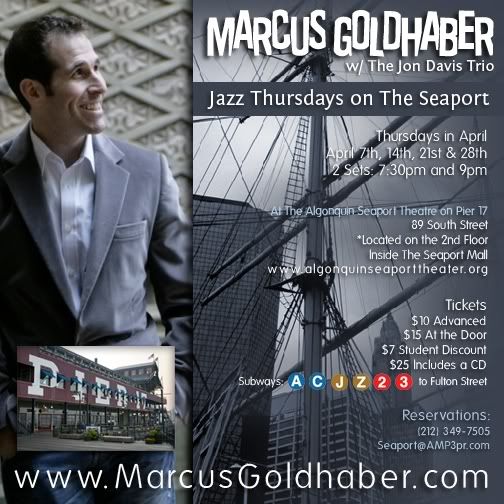 NEW YORK, NY - On Thursday evenings for the entire month of April, Marcus Goldhaber and The Jon Davis Trio will be performing two sets, introducing a brand new weekly Jazz series at The Algonquin Seaport Theater on Pier 17 in Lower Manhattan.

The Algonquin, a newcomer in the downtown landscape, is aimed at bringing Jazz and the arts to a neighborhood that is currently lacking just that.

Ticket sales for the "Jazz on The Seaport" series will benefit the theater in an attempt to give live Jazz a new home at The South Street Seaport for months to follow, and eventually theater as well.

During the series, Marcus will be joined by The Jon Davis Trio, performing two sets at 7:30pm and 9:00pm each night, including April 7th, 14th, 21st and 28th, respectively.

The Algonquin Seaport Theater on Pier 17 is located at 89 South Street (located on the 2nd Floor instead The Seaport Mall). Nearest subways: A, C, J, Z, 2, 3 to Fulton Street. For more information, visit: www.algonquinseaporttheater.org.

Tickets will be $10 in advance, $15 at the door, $7 with student discount, and $25 which includes a CD. For reservations, phone 212-349-7505 or email Seaport@AMP3pr.com.

For more information on Marcus Goldhaber, please visit: www.MarcusGoldhaber.com. For interviews or any other press inquiries, please contact Alyson Campbell at AMP3 Public Relations: 646.827.9594 or alyson@AMP3pr.com.

More Information: http://www.marcusgoldhaber.com
Submitted By:
1