Guitarist Mahan Mirarab inspires awe by incorporating Persian folk and world music with jazz on new CD
(Published: April 01, 2011)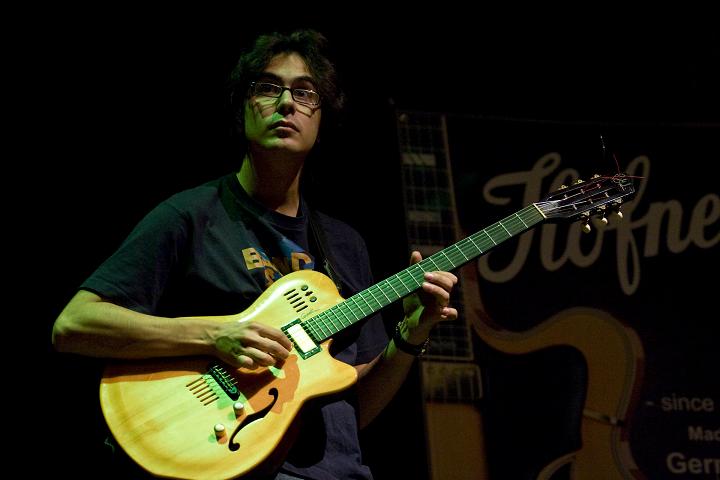 April 1, 2011 (Tehran, Iran) Written by Robert Sutton. Guitarist Mahan Mirarab saves the best for last, or at least at the end of a song on his new album, Persian Side of Jazz. In the explosive climax of "Dar-ol-jonoon," Mirarab's propulsive riffs lock in step with Wolfi Rainer's snapping drums. It's a breathtaking moment, the sound of two musicians lost in a groove, speeding forward with no sign of halting. It is pure bliss.

Persian Side of Jazz is one of the year's most unique and compelling releases mainly because the stylistic blueprint of Mirarab's compositions draw upon stylistic influences, mainly Persian folk and world music, that are exotic to stateside ears.

But Mirarab takes those genres and incorporates them in a jazz framework, creating a balance between comforting familiarity and refreshing newness. On "Haj Ghorban," Mirarab's guitar echoes spellbinding Middle Eastern sounds while its swinging groove is rooted in traditional jazz. In "A Week of Moonlight," Mirarab's playing reaches a higher level of consciousness; it is awe-inspiring in its starry-eyed dreaminess.

Although the music is without words, none are needed to sense how personal this album is from the emotions conveyed in Mirarab's guitar. To Mirarab, he is simply communicating what is inside him. "My first goal is to play the music that flows in my blood," Mirarab explained. "It's the music that I've experienced and listened from my childhood up to now. It's a mixture of the music of Iran, music that has been in my ears since I was a kid, and jazz. I've always tried to blend these two music languages and make a new sound by finding new changes over Persian melodies and also mixing jazz lines with my homeland's music."

Mirarab was born in Tehran, Iran on July 13, 1983. He spent his childhood with the Iran-Iraq War around him. After being introduced to the music of jazz greats like Charlie Parker and Wes Montgomery in his early teens, Mirarab became fascinated with the idea of being a musician but finding an education was not at arm's length. "At the age of 13 I got the chance to take the piano lessons, although it was not easy to find a place where you could get proper music lessons because I used to live in a small city, Babol," Mirarab revealed. "There was no music school or conservatory and even a teacher in Iran at the time so I started to play jazz and transcribing the solos and prepare myself to be a self-thought musician."

Mirarab's unyielding determination is the heart of Persian Side of Jazz. He made the album simply because of his love for music. "I try to make soulful music and enjoy playing it," he said.
More Information: http://www.mahanmirarab.com
Submitted By: