The Turiya Mareya Latin Jazz Ensemble Live in Israel
(Published: June 04, 2009)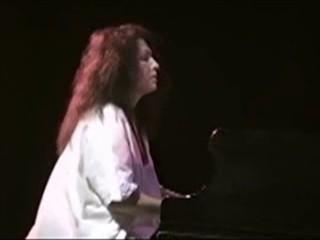 The Turiya Mareya Latin Jazz Ensemble Live in Israel

Pianist Turiya Mareya will head a group of Israeli, Mexican and Italian artists in a summer tour of Israel. Starting in Tel Aviv at the Shablul Jazz Club and the popular Venue Levontin 7. the group will continue on to the Baraka Jazz Club in Beer Shiva and the Mizpte Ramon Jazz Club. The group will also appear at the Kol Hamusica Music Festival in Galilee.



July 24th Shablul Jazz club

July 25th - Levontin 7

July 27th- Baraka Club Beer Sheva

July 28th Mitzpe Ramon Jazz Club

August 5th - Kol Hamusica Music Festival


Turiya Mareya - Piano
Julian Placencia - Bass
Shani Tam- Drumss
Erez Barnoy - Saxophone
Salit Lahav- Flute
Samoel Scotton - Percussion



Turiya Mareya

The Tijuana based pianist and been performing internationally for 10 years appearing in festivals and venues in Europe, Canada the USA and Mexico. Raised on the vibrant border of Tijuana and San Diego she has been playing Latin music all her life and was for 10 years the musical director for the acclaimed group " TheKokopelli Latin Jazz Ensemble" Her passionate powerful style is rooted in Cuban rhythms. Most recently she has been touring Canada performing with Cuban Vocalist Adonis Puentes and appearing weekly at Hermann's Jazz club in Victoria.


Bass Julian Placencia

Julian Plascencia is a native of Baja California.He started playing early in rock band, later developing a passion for latin and jazz he trainad at the LA Music Acedemy In 2005 he went on a cultural and inspirationaltrip to Cuba where he stayed for 2 years and during this time took music courses at Centro Nacional de Enseñanza Artistica in Havana. He has colaborated and recorded with international band "Ache Colectivo" and has been a member of bands such as TJ Groove Station, Adapt, Sobrinos de Juana, Tijuanabana and Pacheco Funk.


Samuel Scotton- Percussion

This Italian percussionist studied and performed extensively in Cuba and is been performing internationally with a variety of latin, African and WorldBeat projects.


Shani Tam - Drums

Tam was born and raised in Israel. She has studied in Cuba and recorded with the group "Ache Collectivo" In 2007 she recieved a scholarship for the LA Music Academy in California. She performed in festivals and venues in Mexico including the Puerto Penasco Jazz Festival.



Erez Barnoy - Saxophone

One of the leading Jazz saxophone players in Israel
Spent many years in the N.Y. Jazz scene. on his return to Israel is established an active career playing at major festival with all the greatest Israeli Jazz Artists. He leads his own active Jazz group and as a music Educator teaches a new generation of jazz artists


Salit Lahav -flute

This Accomplished Flautist and composer is performing with her own group and as a featured artists in Israel. This multi-instrumentalist also plays clarinet and accordian and performs with the leading Israeli artists.

More Information: http:.//myspace.com/mareya
Submitted By:

1
sample@email.tst