THE SONG PROJECT IN EUROPE
(Published: April 10, 2010)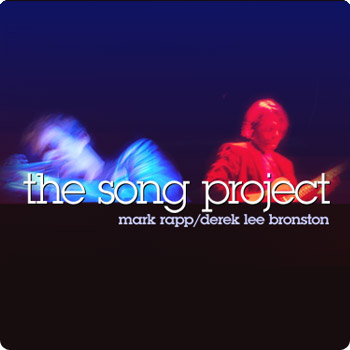 Guitarist Derek Lee Bronston and trumpeter Mark Rapp are taking their online recording collaboration "The Song Project" live in Europe. The Duo will have their European debut in Geneva, Switzerland at Brasserie des Halles de L'Ile on Sunday, April 11. On Thursday, April 22, the Song Project will present another show at the same venue in conjunction with famed photographer Ulysse Frechelin. Ulysse will be showing his work on NYC City's bridges - a perfect pairing for 2 New york jazz musicians performing in Europe. Bronston and Rapp continue to embrace the cutting-edge in technology and will stream all the European shows live online making the events available worldwide via computer, iPhone, Blackberry, Facebook, MySpace and more. The two have been recording original music and creative arrangements remotely from Brooklyn, NY and Geneva, Switzerland resulting in an organic, nuanced exploration of song and improvisation.

Derek Lee Bronston, guitarist, vocalist and songwriter has been on the scene since the 90's playing and recording both as a band leader and sideman equally. He has received consistent praise from the Jazz, Rock and Americana/Country scenes. As well as getting extensive airplay and critical acclaim as a leader with his Jazz CD Longing (featuring Tom Harrell), with rock bands The Hush and Mostley and more recently with his Americana/Country recording "Empty River", Derek Lee has played as a sideman with Cecil Taylor, Billy Bang, The Great Shakes, Heather Greene, Cooley's Hot Box and Branford Marsalis to name a few.

Mark Rapp has played sold out shows at the Blue Note (NY), Joe's Pub, Yoshi's (San Francisco) and such venues as the JVC Newport Jazz Festival, Jazz Standard (NY), Dizzy's at Jazz Lincoln Center, JazzTime Festival (Croatia), Jazzland (Vienna) and more. Mark was named a "top emerging trumpeter" by Downbeat Magazine, featured on a Travel Channel documentary and has played with such diverse artists as Branford Marsalis to Hootie and the Blowfish and most recently recorded with saxophone great Don Braden and GRAMMY-nominated pianist Gerald Clayton. His critically acclaimed debut record Token Tales is being played around the globe and his follow-up record, Braden-Rapp: The Strayhorn Project reached #4 on the Jazz Radio Jazz Charts.

Learn more about the Song Project here: http://thesongproject.pav...

More Information: http://thesongproject.pavedearthmusic.com/
Submitted By:
1